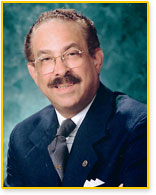 This year HHEFA marks its 34th year of service to the healthcare and educational communities of our region. Since its founding in 1974, the Authority, working closely with the city administrations, has been privileged to serve more than 50 individual healthcare and educational institutions.
Together, the Authority and the institutions have attracted investors from throughout the country to invest more than $6 billion in the future of the Philadelphia region through low-cost, tax-exempt financings. These proceeds have been used to create a reputation for Philadelphia as a much respected center of excellence in the field of education, healthcare and medical research.
Despite current economic uncertainties it is our belief that the Philadelphia health care and higher education communities are favorably positioned to meet future fiscal challenges. The leadership of the Authority remains committed to a partnership role with our region's most important institutions. Together, we will fulfill the promise that the Philadelphia region rightfully deserves – to be among the renowned medical and educational centers of the world.
Robert W. Bogle
Chairman
The Hospitals & Higher Education
Facilities Authority of Philadelphia